Do you have a love for adventure and the great outdoors? Look no further than the wide expanse of Texas for your next RV road trip! With its diverse landscapes, vibrant RV community, and top-rated parks, Texas offers an unforgettable experience for RV enthusiasts. Whether you're seeking stunning natural beauty, a sense of community, or a combination of both, Texas has something for everyone. In this article, we will dive into the appeal of Texas RV parks, explore the top-rated parks in the state, discuss what to look for when choosing a park, and highlight the exciting activities and attractions near these parks.
Sponsored By: Revitalize Web
Understanding the Appeal of Texas RV Parks
One of the main reasons why Texas stands out as a top destination for RV enthusiasts is its unique landscape. The Lone Star State boasts a wide range of terrain, from the rolling hills of the Hill Country to the rugged canyons of Big Bend National Park. No matter which part of Texas you choose to explore, you'll be greeted with breathtaking scenery.
But what makes the Texas landscape truly special is its diversity. From the towering cacti of West Texas to the coastal beauty of the Gulf of Mexico, the state offers a plethora of natural wonders. Imagine waking up to a sunrise over the Guadalupe Mountains, with the warm hues of orange and pink painting the sky. Or picture yourself enjoying a peaceful evening by a pristine lake, with the sound of gentle waves lulling you into a state of relaxation. Texas truly has it all.
The Unique Texas Landscape
From the towering cacti of West Texas to the coastal beauty of the Gulf of Mexico, the diversity of Texas's landscape sets it apart from other states. Imagine waking up to a sunrise over the Guadalupe Mountains or enjoying a peaceful evening by a pristine lake. Texas truly has it all.
But it's not just the natural beauty that makes Texas RV parks so appealing. It's the sense of community that comes with RV living in the Lone Star State. Texas is known for its friendly and welcoming RV community, where you can connect with like-minded individuals who share your passion for the open road. Many RV parks in Texas host events and activities that foster a sense of camaraderie among residents.
Read About: Best Beaches in Texas
The RV Community in Texas
Another reason why RV enthusiasts flock to Texas is the sense of community that comes with RV living. Texas is known for its friendly and welcoming RV community, where you can connect with like-minded individuals who share your passion for the open road. Many RV parks in Texas host events and activities that foster a sense of camaraderie among residents.
Imagine gathering around a campfire with fellow RVers, sharing stories of your travels and exchanging tips on the best places to visit. Or participating in a potluck dinner, where everyone brings a dish to share and you get to taste the diverse flavors of Texas cuisine. The RV community in Texas is more than just a group of people living in close proximity – it's a tight-knit family that supports and uplifts each other.
And let's not forget about the amenities that Texas RV parks offer. From swimming pools and fitness centers to hiking trails and fishing ponds, these parks provide a wide range of activities to keep you entertained during your stay. Whether you're looking to relax by the poolside with a good book or embark on an adventure-filled hike, Texas RV parks have something for everyone.
Top Rated RV Parks in Texas
Now that you understand the appeal of Texas RV parks, let's dive into some of the top-rated parks in the state. These parks have been chosen based on their amenities, location, and overall value for money.
Camp Margaritaville RV Resort Crystal Beach
Nestled on 150 acres of scenic oceanfront property, Camp Margaritaville RV Resort Crystal Beach boasts 204 beautifully situated sites with direct access to 27 miles of Texas beaches. The resort offers oversized, level, and big-rig friendly concrete parking sites, accommodating even the largest Class-A motorhomes available in the market.
Each site comes equipped with a full range of convenient hookups, including sewer, water, and 20/30/50-amp electricity, ensuring a hassle-free and relaxed setup experience. At Camp Margaritaville RV Resort Crystal Beach, guests can expect a laid-back and inviting atmosphere, making it the perfect destination to unwind and enjoy the coastal charm.
RV Resort Amenities
150 Acres of Beachfront Property with Direct Access to 27 Miles of Texas Beaches
204 Concrete RV Sites
All Sites are Big Rig Friendly With Concrete Patios
ADA Accessible RV Sites
Full Hookups (sewer, water, & electric including 20/30/50 amp)
Free Utilities
Custom Picnic Tables & Fire Pits
Luxury Showers with 16 Private Full Bathrooms
Laundry Facility with Washer and Dryers
Golf Cart Rentals
Ultra High-Speed WiFi
Stocked Catch and Release Pond
Oasis RV Resort, Amarillo
Located in the heart of the Texas Panhandle, Oasis RV Resort in Amarillo offers a luxurious and relaxing retreat. With spacious RV sites, a swimming pool, and a clubhouse, this park has everything you need for a comfortable stay. The park's proximity to Palo Duro Canyon State Park, known as the "Grand Canyon of Texas," provides endless opportunities for outdoor recreation.
Imagine waking up in your RV, surrounded by the stunning natural beauty of the Texas Panhandle. As you step outside, the fresh morning air fills your lungs, and you can't help but feel a sense of tranquility. You make your way to the clubhouse, where you're greeted by friendly staff who are ready to assist you with any needs you may have during your stay.
After enjoying a refreshing dip in the swimming pool, you decide to explore the nearby Palo Duro Canyon State Park. As you hike along the trails, you're in awe of the breathtaking views that surround you. The vibrant red rock formations and the vastness of the canyon make you feel small in comparison. You take your time, capturing the beauty with your camera, knowing that these memories will last a lifetime.
Buckhorn Lake Resort, Kerrville
If you're looking for a park that combines natural beauty with modern amenities, Buckhorn Lake Resort in Kerrville is the perfect choice. Nestled among the rolling hills of the Hill Country, this park offers stunning views and a peaceful atmosphere. The park features a fishing lake, golf course, and hiking trails, ensuring there's something for everyone to enjoy.
As you drive through the picturesque Hill Country, you can't help but be captivated by the beauty that surrounds you. The rolling hills, covered in vibrant greenery, create a sense of serenity that instantly puts you at ease. As you arrive at Buckhorn Lake Resort, you're greeted by the sight of the crystal-clear lake, shimmering under the warm Texas sun.
You decide to spend the afternoon fishing in the lake, hoping to catch a big one. As you cast your line, you can't help but appreciate the peacefulness of the moment. The sounds of nature surround you, creating a symphony of tranquility. Even if you don't catch any fish, the experience alone is enough to make you feel connected to the natural world.
Jamaica Beach RV Resort, Galveston
If a coastal getaway is what you're after, look no further than Jamaica Beach RV Resort in Galveston. Located just steps away from the sandy shores of the Gulf Coast, this resort offers beachfront RV sites with stunning views. With amenities like a pool, hot tub, and beach access, Jamaica Beach RV Resort is the ultimate destination for those seeking sun, sand, and relaxation.
Picture yourself waking up to the sound of crashing waves and the gentle ocean breeze. As you step outside your RV, you're greeted by the sight of the sparkling Gulf Coast, stretching as far as the eye can see. The soft sand invites you to take a leisurely stroll along the beach, collecting seashells as you go.
After a relaxing morning on the beach, you decide to take a dip in the pool to cool off. The sun's rays glisten on the water's surface, creating a mesmerizing play of light. As you float in the pool, you can't help but feel a sense of pure bliss. The worries of everyday life seem to melt away, replaced by a feeling of complete serenity.
In the evening, you make your way to the hot tub, where you can unwind and enjoy the breathtaking sunset over the Gulf of Mexico. The vibrant hues of orange, pink, and purple paint the sky, creating a masterpiece that rivals any work of art. As you soak in the warm water, you reflect on the beauty of nature and the incredible experiences that Texas RV parks have to offer.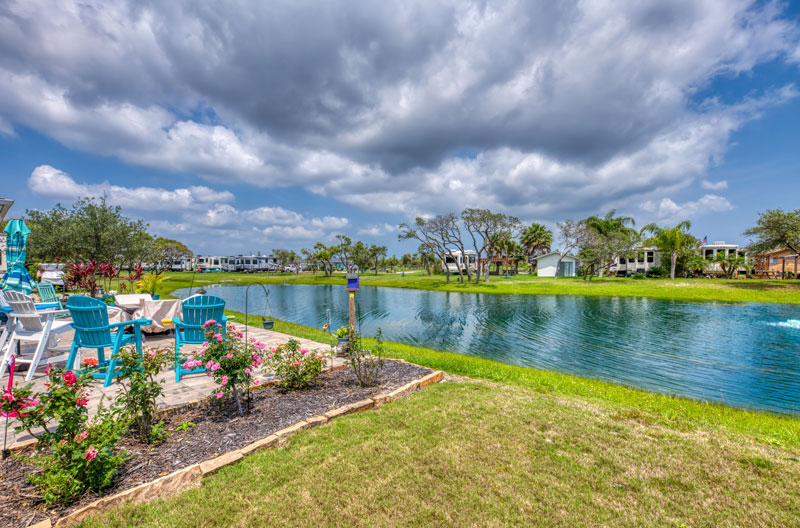 Southern Oaks RV Resort, Corpus Christi
Nestled in the charming landscapes near Corpus Christi, Texas, Southern Oaks RV Luxury Resort stands as an expansive and secure gated community, beckoning to nomads, long-term sojourners, and holidaymakers alike. Offering a delightful retreat for those in search of RV parks with top-notch facilities, this resort exudes beauty, cleanliness, and modernity.
Drawing travelers back time and again, the resort's allure lies in its gracious amenities, an abundant array of on-site activities, and its convenient proximity to the diverse entertainment options dotting the Corpus Christi area. With each stay, visitors gain access to an impressive array of amenities, ensuring a truly enjoyable experience:
Playgrounds, perfect for the young and the young at heart.
Four-legged companions can frolic freely in the Fenced Dog Park, complete with an Agility Course, making it a haven for furry friends.
Sports enthusiasts can revel in friendly competition at the Shuffleboard and Pickleball Courts, fostering camaraderie and excitement.
Indulge in relaxation at the 12.5′ x 12.5′ Spa, providing a serene oasis to unwind and rejuvenate.
Take a dip in the Heated Swimming Pool, a refreshing spot for leisurely aquatic activities.
The resort's commitment to convenience extends to its 24-hour Laundry Facility, ensuring guests can manage their essentials effortlessly.
For added comfort, the 24-Hour Restroom and Shower Facilities offer a pristine and well-maintained sanctuary.
Summer Breeze RV Resort, Brookshire
This RV resort is a great family vacation destination! This RV resort is conveniently located just off I-10 in Brookshire, TX. and offers a delightful escape for travelers passing through or seeking a longer stay.
Some of this RV resort's features include:
99 full hookup RV sites with 30/50 amp electric.
Automatic lighting throughout the park.
48 camera security system.
State-of-the-art high speed fiber optic Wi-Fi system with towers located throughout the park.
Wifi
Golf cart rentals.
Country store with RV supplies, snacks, and Blue Bell ice cream.
Fitness center.
Laundry facility includes 6 standard washers, one high-capacity washer, and 10 dryers.
Clean restrooms and shower facility.
The resort's 33 acres of well-maintained grounds provide ample space for leisurely strolls, and visitors can take advantage of golf cart rentals for easy exploration. Other attractions nearby include the Katy Mills Mall, Katy Convention Center, and various entertainment options, making Summer Breeze USA Katy an ideal base for adventure.
Guests can enjoy the Texas-sized covered hot tub, the 50,000+ gallon swimming pool with a slide and cave area, and the Tropical Village themed water park with slides and sprays. Additionally, the resort offers a covered basketball court, playground, and dog park for more recreational opportunities.
What to Look for in a Texas RV Park
When choosing the perfect RV park in Texas, it's important to consider several factors. Here are some key things to keep in mind:
Essential Amenities
Make sure the park offers the essential amenities you need for a comfortable stay. This may include full hookups, laundry facilities, showers, and a grocery store. Additionally, check if the park has recreational facilities such as pools, playgrounds, or hiking trails.
Discover: Vrbo in Texas with a Private Pool
Location and Accessibility
Consider the location and accessibility of the RV park. Do you prefer a park close to a major city or one nestled in nature? Also, check if the park is easily accessible from major highways and if there are nearby attractions or activities that interest you.
Price and Value for Money
RV park rates can vary widely, so it's important to find a park that offers good value for money. Consider what amenities and services are included in the price and compare it to similar parks in the area. Remember, the cheapest option may not always be the best value.
Activities and Attractions Near Texas RV Parks
While the RV park itself is a great base for your adventures, you'll also want to explore the attractions and activities near your chosen park. Texas offers a wealth of opportunities for outdoor enthusiasts and history buffs alike.
Exploring Texas National Parks
With its vast land area, Texas is home to several breathtaking national parks. From Big Bend National Park, where you can hike through canyons and marvel at desert landscapes, to Guadalupe Mountains National Park, which boasts the highest peak in Texas, you'll find no shortage of natural wonders to explore.
Visiting Historic Texas Towns
Texas is rich in history, and many small towns in the state have preserved their heritage. Take a step back in time by visiting places like Fredericksburg, known for its German heritage and charming Main Street, or Gruene, home to one of the oldest dance halls in Texas. These towns offer a glimpse into the past and often host festivals and events that showcase their historical roots.
Enjoying Texas Cuisine Near Your RV Park
No visit to Texas is complete without indulging in the state's famous cuisine. From mouthwatering barbecue to Tex-Mex favorites, there are endless dining options near Texas RV parks. Don't be afraid to try local specialties like brisket, breakfast tacos, or kolaches – you won't be disappointed!
So, whether you're drawn to Texas for its diverse landscapes, vibrant RV community, top-rated parks, or exciting activities, you're sure to have an unforgettable RV adventure. Pack your bags and embark on a journey to explore the best RV parks that Texas has to offer. Happy trails!
---
Want to Travel Texas? Keep Coming Weekly to A Texas Guide
Instagram: ATexasGuide
TikTok: ATexasGuide
YouTube: ATexasGuide