Are you dreaming of a sun-soaked vacation, lounging by your own private pool while enjoying the warm Texas breeze? Look no further! Here, we have curated a list of the best Texas Vrbo rentals with private pools, ensuring that your next getaway is nothing short of paradise.
Whether you're seeking a family-friendly retreat, a romantic escape, or a fun-filled adventure with friends, these handpicked Vrbo properties offer the ultimate combination of luxury, relaxation, and privacy. From stunning resort-style pools to refreshing hot tubs, these rentals are designed to provide an unforgettable experience for every guest.
Indulge in the freedom of having your own personal oasis, where you can take a dip at any time, swim under the stars, or simply bask in the sunshine while sipping your favorite drink. These rentals offer more than just a pool; they boast exquisite interiors, spacious living areas, well-appointed kitchens, and a range of amenities that will make you feel right at home.
Get ready to dive into a world of relaxation, luxury, and endless fun as we unveil the best Texas Vrbo rentals with private pools. Start browsing our handpicked selection and get ready to book your slice of paradise today. Your dream vacation awaits!
Discover the Perfect Fishing Getaway: Luxury Home on a Rockport Canal
Escape to Rockport, Texas, for the ultimate fishing retreat! This luxury Texas VRBO rental is meticulously designed to provide an unforgettable vacation experience. With three bedrooms, a fully equipped kitchen, and a charming loft area, this two-story home comfortably accommodates up to eight guests. Enjoy bay views and stunning sunsets from the wrap-around balcony, take a dip in the private pool, or try your luck fishing off the dock.
Guests highly praise their memorable experiences in this Vrbo:
"Amazing place to stay. Very clean and accessible. Great fishing off the dock." – Joshua H.
"Beautiful place to stay and enjoy fishing and time with family." – Rudy A.
"Booked this lovely home for our annual fishing trip. Great location and highly recommended!" – Michael G.
"This house tops them all. Felt like I was on vacation from the minute I stepped inside. We had a great time." – Dave C.
No pets or smoking are allowed to ensure a peaceful stay. Don't miss out on this exceptional Rockport getaway—book your stay today!
Experience Upscale Luxury: The ART House
Step into the extraordinary at The ART House, a published masterpiece featured in prestigious publications like DWELL and TRIBEZA. This designer retreat, crafted with meticulous attention to detail by owner Cavan McMahon, offers a truly unparalleled experience for discerning travelers.
Highlights of The Vrbo ART House:
Open-concept main area with a gourmet kitchen, Viking appliances, gas burning fireplace, and separate media room.
Master suite featuring a handmade king bed, en-suite soaking tub, river-rock shower, and unique concrete 'Plow Disk' sinks.
Two additional rooms with handmade king beds, each with their own concrete 'Plow Disk' sink/vanity.
Shared bath with a walk-in river-rock shower.
Expansive deck, pool, outdoor kitchen, and lush gardens within a private fenced compound.
Guests rave about their experiences:
"The best stay for a girls weekend away! Cutest house with an amazing yard & pool! Close to Main Street & amazing restaurants." – Madison U.
"The owners could not have been nicer or more helpful. We really enjoyed our stay." – Elizabeth P.
"Easy access to town. The house is very clean and beautifully designed." – Gina H.
"This hidden gem is beautiful inside and out! Close to everything you want to see and do in Fredericksburg and yet felt like you were in your own oasis. Can't wait to come back!" – Diane B.
Indulge in the luxury and artistry of The ART House, where every detail has been thoughtfully curated. Conveniently located near popular attractions in Fredericksburg, this hidden oasis offers a unique and unforgettable getaway.
Book your stay at The ART House and immerse yourself in upscale splendor.
Read the Latest: A Texas Guide
Experience Comfort and Convenience: Wasser Haus in Fredericksburg
Welcome to Wasser Haus, a stunning 4-bedroom, 3.5-bathroom home located in the heart of Fredericksburg, TX. This centrally located and beautifully decorated vacation rental is the perfect choice for a family vacation or a group getaway.
Key features of Wasser Haus:
Four bedrooms, including three primary bedrooms with king-size beds, a cozy full-size bed in the smaller downstairs bedroom, and a game room with two twin beds.
Ensuite bathrooms in two of the bedrooms, providing maximum privacy. The master bathroom boasts a walk-in shower and a luxurious soaking tub for a blissful relaxation experience. The third and fourth bedrooms share a spacious bathroom with a walk-in shower.
A fully equipped kitchen with a large stainless steel fridge, full-sized stove, and custom farmhouse sink. Ample seating is available with a breakfast bar, kitchen island, and a full-size dining table.
An open-concept living area with vaulted ceilings, custom skylights, and a designer chandelier. The fireplace adds a warm and inviting touch to the space.
An outdoor oasis for entertaining, featuring a full-sized swimming pool, a luxurious built-in hot tub, an attached screen porch with a dining table, a fully fenced backyard with a ping-pong table, BBQ grill, pool loungers, and an additional outdoor dining area.
Adjacent to the popular Buckhorn Cabin, allowing large groups to book both properties for an extended stay.
This is what this vacation rental's guests had to say:
"Enjoyed the weekend stay. House was great. Location perfect." – Mark G.
"Great place! Perfect for 4 friends to enjoy a relaxing weekend." – William F.
"The house was perfect for our group of women, beautiful property, comfy beds, great kitchen! We would definitely book this again in the future!" – Brandi K.
"Easy booking. Easy checking. Accurate description. Excellent location. Thank you for not complicating the check-out process!! Very reasonable." – Norma S.
Don't miss the opportunity to stay at Wasser Haus, where comfort and convenience meet in a beautiful setting. With its prime location within walking distance of downtown Fredericksburg and Main Street's renowned shopping district, this vacation rental provides the perfect base for exploring the area.
Book your stay at Wasser Haus today and create lasting memories in the charming town of Fredericksburg.
Rest and Relaxation at Texas Lake House Villa
Escape the hustle and bustle of daily life and indulge in a serene getaway at our "Texas Lake House" Villa. This private retreat caters to traveling medical professionals seeking short to midterm stays, offering a comfortable and rejuvenating environment.
Located in a gated community on the picturesque Lake Conroe, our villa is nestled among rolling hills, providing a tranquil setting to unwind and recharge. Delight in the array of amenities and comforts this charming villa has to offer.
Highlights of the Texas Lake House Villa:
Serene backyard with a private pool, perfect for lounging and enjoying moments of relaxation.
Second-floor balcony facing the lake, offering a breathtaking setting to soak in the sunset and embrace the beauty of nature.
Convenient location with easy access to the Marina and a short drive to Conroe, The Woodlands, and surrounding areas.
Guest reviews speak for themselves:
"We booked a local stay for the lake and the private pool. The house and pool were clean and relaxing! Would definitely recommend." – Barbara P.
"My son and I absolutely enjoyed staying in this quiet and cozy little lake house. The neighborhood was well-maintained and quiet. The home was clean, well-maintained, inviting, and pleasant. We will absolutely be making reservations again in the future." – Kait C.
"Great spot and we enjoyed it. Great location with a little bit of lake view from the upstairs, which was nice, and the place was really clean. Wish it would have been a little warmer to use the private pool but maybe next time." – Andy A.
"Exactly what we wanted – Balcony with a Lake View and private swimming pool. Internet – smart TVs in each bedroom & living room. Close to shopping & restaurants! Very relaxing weekend." – Angela R.
Indulge in a well-deserved retreat at the Texas Lake House Villa, where you can unwind, embrace tranquility, and enjoy the beauty of Lake Conroe. Whether you seek relaxation by the pool or breathtaking views from the balcony, this villa provides the perfect backdrop for your getaway.
Book your stay at the Texas Lake House Villa today and experience the ultimate rest and relaxation in a serene lakeside setting.
Discover the Ultimate Lakeside Getaway at Laguna Terrace on Cedar Creek Lake
Welcome to Laguna Terrace on Cedar Creek Lake! This resort-style home is your perfect lakeside retreat in Texas. With its breathtaking lagoon-inspired double pool, outdoor kitchen and bar, sandy beach area, private dock, and spacious accommodations for up to 20 guests, this property offers an unforgettable vacation experience.
The highlight of Laguna Terrace is its luxurious pool area, complete with a thrilling waterslide and convenient outdoor amenities. Swim up to the bar, relax in the cabana, or gather around the fire pits for cozy evenings. Enjoy the sandy beach, explore the lake with the provided kayaks, or tie up your watercraft at the private dock.
Inside the beautifully appointed home, you'll find an open-concept living area, a fully equipped kitchen, five bedrooms with cable TV and sound systems, and four bathrooms. The bunk room is perfect for kids to have their own space.
Vrbo guest experiences:
"A beautiful home with everything you need for a great vacation. We had such a great time! The water slide was a big hit… We are ready to start planning our next trip here." – Julie A.
"This house slept ten guys comfortably well! The pools and TVs were GREAT! If you stay here and don't have a wonderful time, it's your fault." – Zach J.
"This property is very beautiful, and Morgan, the host, is very helpful and friendly. We really enjoyed our stay and will be renting this property again. Highly recommend it." – Corine N.
Make your lakeside dreams a reality at Laguna Terrace on Cedar Creek Lake. Book your stay now for an unforgettable getaway.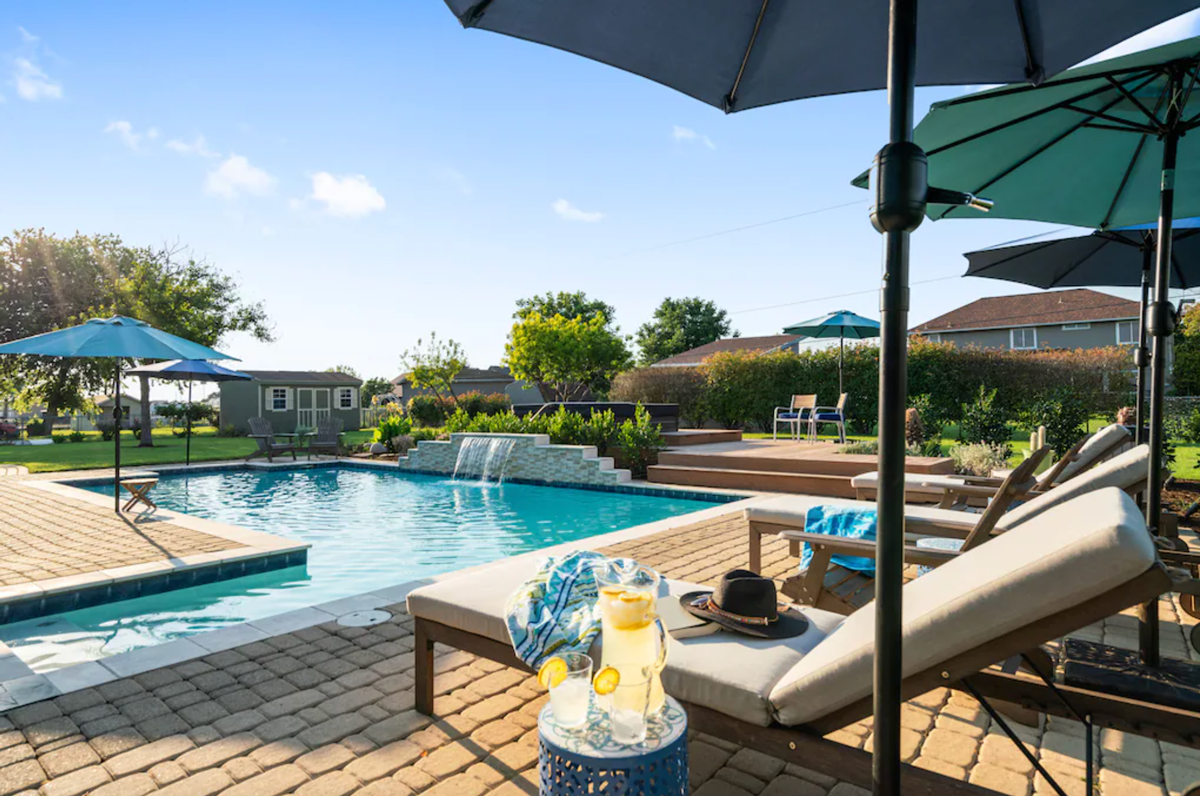 Vrbo with Resort Style Pool in Texas | Source: Vrbo
Escape to Tranquil Luxury at this Stunning Texas Vrbo with Private Pool
Welcome to your ultimate rural retreat near Austin, Texas! This magnificent four-bedroom home, designed by Robert Bentley Design, offers a serene getaway in a charming small town. With its resort-style pool, hot tub, game room, and beautifully landscaped backyard, this pet-friendly property is the perfect escape. Plus, it's conveniently located just 30 minutes from Austin, offering easy access to shopping, entertainment, and dining options.
Step into a world of relaxation and adventure as you lounge by the pool, play foosball and ping pong in the game room, or explore nearby attractions like the Dell Diamond baseball stadium and the thrilling Kalahari Resort. This country estate provides a refreshing change of scenery and is ideal for family vacations, special occasions, remote work stays, or simply unwinding in a clean and cozy home.
Guests of this Texas vacation rental have shared their wonderful experiences:
"From the time I booked this property, I knew it would be special. The house had everything our family needed. Communication with the property manager was exceptional, and the house was so clean. The pool area was fantastic. Everything we needed was on site!"- Cristina H.
"Checked all our boxes brilliantly and have no complaints whatsoever."- Marcus P.
"The location was very convenient, and the house was very clean. The backyard was great with the pool and hot tub. Quiet neighborhood. Plenty of space for our group." – Melissa L.
Enjoy a well-appointed kitchen, luxurious bedrooms with comfortable beds and premium linens, and a range of amenities such as Wi-Fi, large smart TVs, a washer and dryer, and toiletry essentials. The outdoor area is a true oasis with its pool, hot tub, patio, fire pit, gas grill, volleyball court, and lawn games. There's even a game room with ping pong and foosball tables for added entertainment.
Whether you're seeking tranquility, outdoor fun, or easy access to Austin's attractions, this Texas Vrbo with a private pool is your perfect choice. Book your stay now and experience the exceptional hospitality and comfort that our guests rave about.
---
Travel Texas? Keep coming weekly to A Texas Guide
Instagram: A Texas Guide
TikTok: A Texas Guide
YouTube: A Texas Guide