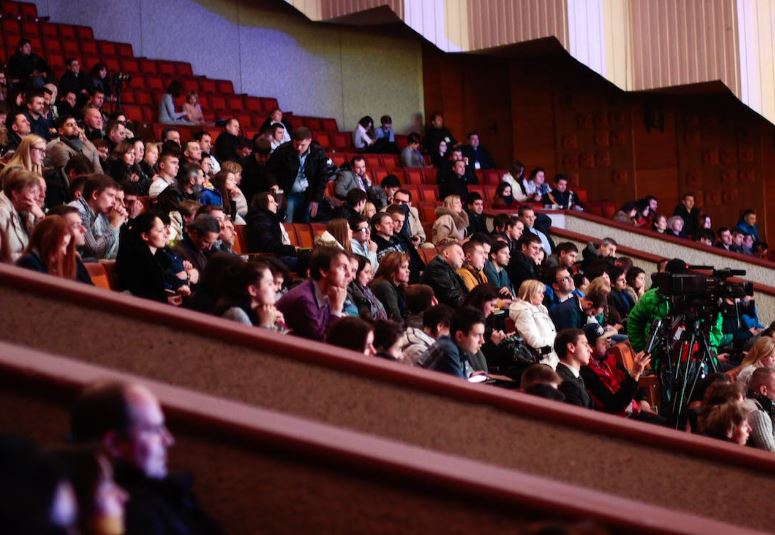 The Best January Events in Houston
The holidays have come and gone, so by now the ornaments are likely in the attic and the New Year's confetti has been swept up. The holiday decompression has commenced, and a fresh year is upon us. Now, what to do in 2023? We've got a list!
Houston Symphony Presents the Music of Elton John and Billy Joel
Jan. 6 – 8, 8 p.m
Elton John and Billy Joel. Name a more iconic duo…we'll wait! Always ready to put on an experience, the Houston Symphony is bringing new life to some of your favorite hits by these musical icons. The evening's incredible piano-and-vocal talent Michael Cavanaugh—handpicked by Billy Joel to recreate his music in the Broadway musical Movin' Out—delivers electrifying renditions of the songs you know and love, including "Tiny Dancer," "Rocket Man," "Uptown Girl," "Your Song," "New York State of Mind," "Saturday Night's Alright," and many more. Tickets are limited, so book soon.
Dream Big WonderWeek featuring Dr. Martin Luther King
Jan. 10 – 15, 10 a.m. – 6 p.m.
Join the Children's Museum Houston in celebrating the life and legacy of the great Martin Luther King Jr. with an all new WonderWeek. Dr. Martin Luther King was an advocate for peace, and social justice during a time of great tension, and difficulty in the United States. His message of justice, tolerance and diversity is still relevant today. MLK had a dream for humanity, and the Children's Museum Houston invites visitors to share in that dream with its Dream Big WonderWeek. Plan to celebrate the life and legacy of this great hero with a week full of inspiring activities.
Chopin's Letters by the Mercury Chamber Orchestra
Jan. 14, 8 p.m
Get to know Chopin. Not just his music, but his life through the amazing sounds of the Mercury Chamber Orchestra. The great composer was responsible for some of the world's most passionate, emotionally charged music. Now, experience the story of Chopin's own great love – the often scandalous relationship with the notorious cigar-smoking, trouser-wearing novelist George Sand. Through staging and multimedia effects, this story will come to vivid life alongside some of Chopin's most famous melodies, including his "Raindrop" Prelude, Nocturne Nos. 2 and 20, here orchestrated for full string orchestra adding depth and lushness to this enchanting music. The event is one night only, so get your tickets now!
Chevron Houston Marathon
Jan. 15
Come out and see local Houstonians, runners from around the world and elite athletes run 5.1, 13.1 or 26.2 miles on one of the nation's fastest courses.
29th Annual MLK Grande Parade
Jan. 16, 10 a.m. to noon
Another way to celebrate the life and legacy of Dr. Martin Luther King Jr. is at the 29th Annual MLK Grande Parade. The iconic parade in Midtown is one of the largest single-day multicultural events in the U.S. Held in honor of Dr. Martin Luther King, Jr. The event involves millions of people through television, social media, and spectatorship. This celebration assembles a variety of dignitaries, dance and cheer teams, Junior Reserve Officer Training Corps, college, primary and secondary school marching bands, floats, and corporate and civic organizations from across the country. Come celebrate the life of the amazing Dr. King and enjoy a day devoted to promoting racial harmony through educational and promotional concepts and ideas.
7th Annual Hops n' Hot Sauce Festival featuring SpindleTap Brewery!
Jan. 21, 11 a.m. – 5 p.m.
January can be a pretty cold month, so go ahead and heat things up at the 7th Annual Hops n' Hot Sauce Festival. This year, the event will be held at the Humble Civic Center and features SpindleTap Brewery. Hot sauce enthusiasts will love browsing the seemingly endless samples of hot sauces, salsas, seasonings, jellies, jams, pickled products, and more. Of course, there will be plenty to eat from popular local food trucks. Did we mention that kids under 12 and parking are both free!? Bring the family and spice things up this winter!
Pearland Lunar New Year
Jan. 21, 2 p.m. – 5 p.m.
New year, new celebrations! Join the Pearland Chinese Association for the 2023 Pearland Lunar New Year Festival. This event promises to be a wonderful celebration to kick off the year of the rabbit for people of all ages. The exhibits and experiences at the lunar new year celebration will be full of traditional Asian culture, arts, crafts, food, entertainment and activities. You can brush up on your calligraphy and Chinese painting skills, enjoy a traditional Chinese costume and photo booth, plus there will be plenty of crafting like ceramic and origami art. Happy new year!
Lunar New Year at Solstice 
Jan. 22, 5 p.m. – 8 p.m.
The New Year's celebrations are just getting started in Houston. According to the lunar calendar, his year is the year of the rabbit. Head to Discovery Green for a Lunar New Year celebration in connection with the winter art installation, Solstice, by Studio Iregular. The event will also feature performances by Dance of Asian America and more, food vendors and additional activities and experiences for the entire family. Fun fact, those born in the Year of the Rabbit are said to be talented at many things. They are affectionate people, often excelling at forming close relationships. However, they also appreciate tranquility and seek out peace. Time to celebrate!
Portrait of Courage: Gentileschi, Wiley, and the Story of Judith
Jan. 25 – Apr. 16
A new exhibit is coming to the Museum of Fine Arts Houston! Get ready for "Portrait of Courage: Gentileschi, Wiley, and the Story of Judith" starting in late January. This exhibit is included with general admission tickets and juxtaposes two paintings created 400 years apart, both depicting the Old Testament story of Judith slaying Holofernes. Artemisia Gentileschi's 17th-century Judith and Holofernes and Kehinde Wiley's 21st-century Judith and Holofernes place the two paintings in dialogue with one another, revealing shared narratives and ideas across time and culture. In depicting a woman's act of courageous defiance, the paintings by Gentileschi and Wiley both address timeless issues of gender, race, violence, oppression, and social power.
Gazillion Bubble Show
Jan. 28
Want to enjoy a mind-blowing bubble magic show that makes you feel like a kid again? Head to the Gazillion Bubble Show at Jones Hall. This show has it all, high-impact special effects, laser lighting and an interactive performance that will blow you away! For the past 15 years, The Bubble Show has become the longest running Off-Broadway family sensation. Now traveling across the U.S. the Gazillion Bubble Show promises to be an exciting and engaging experience for event the littlest bubble enthusiasts. Get your tickets now for this spectacular showcase!
---
Originally found in VisitHouston